Preservation Guidelines for Matting and Framing
Long-term/permanent display of paper-based materials is not recommended because light exposure causes permanent damage that manifests in fading, yellowing/discoloration, embrittlement, and other irreversible changes. The best alternative to long-term display is to keep valuable paper collections in good storage conditions and to mat and frame a well made reproduction.
When an original must be framed, preservation matting and framing is essential for limiting potential damage, but the following guidelines can apply to reproductions, which also represent an investment of time, energy, and money.
What is preservation matting and framing?
Preservation matting and framing describes materials and methods designed to limit environmental (e.g., from light, water, humidity, airborne pollutants, dust, surrounding materials, etc.) risks to the displayed object. All materials used in the frame package must be chemically stable.
Confirm with the framer:
· Hinges: Non-adhesive hinging (e.g., photo/mounting corners; polyethylene strapping; mounting strips) whenever possible or Japanese tissue hinges applied with refined wheat starch paste
· Matboard (for window and for backmat): 100% cotton rag or chemically purified, lignin-free wood pulp stock; pH-neutral or slightly alkaline (pH 8.5); 4-ply minimum; overmatting provides more protection than "floating" in the window; for matting photographs, board must pass the Photographic Activity Test
· Tape for hinging the window and backmat together: Water-activated gummed linen tape; object should not touch linen tape
· Glazing: UV-opaque acrylic (also available as anti-static for objects with friable media); ensure the object does not touch the glazing -- use a sufficiently thick-ply window mat or add spacers along the perimeter of the mat
· Backing board: acid-free and lignin-free corrugated board (necessitates an additional moisture barrier) or corrugated polyethylene or polypropylene; at least 3 mm thick
· Moisture barrier: metalized polyester film; polyester film
· Frame: metal or wood (if wood, rabbet should be lined with a barrier film (e.g., aluminum or polyester tape with acrylic adhesive) to prevent acids in wood from moving into the mat package); of sufficient depth to accommodate the complete package including the backing board; constructed to minimize potential for warping, bowing, torquing
· Method for securing mat package in frame: pins or brads; no tape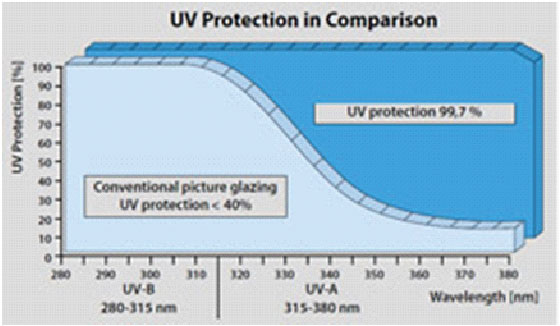 German Rohn's plexiglas UV 99.7% resistant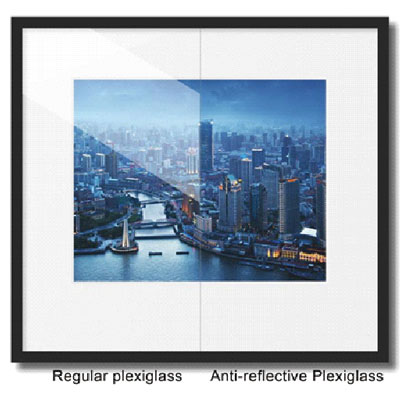 Preferred places to hang or store framed objects
· Out of direct sunlight or any intense light source; consider covering the frame with an opaque hanging cloth to block all light when the object is not being viewed
· Away from working fireplaces or radiators
· Away from intake or outtake vents
· On interior walls, which do not reach the same temperature extremes or bear as much moisture as exterior walls
· Out of attics, basements, or any other areas prone to environmental extremes and with high risk of water leaks
· Off of the floor
Additional References:
The Photographic Activity Test, or PAT ISO18916
(https://www.imagepermanenceinstitute.org/testing/pat)
Film Archival Protection: ISO5466Photo Archival Protection: ISO6051Materials for Archival Protection: ISO10214